You don't have to live by the beach to tap into coastal remodeling ideas. We share essential features for 5 rooms to achieve the style. And if for a small beach cottage look you can easily make do with a few decor pieces, for a larger house, painting your walls white and blue and planting a palm tree or two will not be enough.
The principles of coastal design
Whether you have beach view or beach front or are inland, the coastal feel obeys to certain design principles. The first thing to evaluate is how you will bring the outdoors in. By the ocean, inside and outside merge to enjoy salty air (and the view). You want tons of natural light flooding in and you want to blend your decor with the colors of the coast.
Next, you declutter, keep everything light and airy to include a feeling of relaxation.
To obey to these principles you will have to plan ahead and not act upon buying impulses. With your desires and taste in mind, map out the interior design and color scheme to blend and marry whites, sandy beiges and pale blues, to imitate the colors of the sand, the sky and the water.
Hire a professional to draw up the plans and apply for proper permits in order to make the changes necessary such as:
Adding windows and french doors
Replacing wooden doors with glass doors
Installing a skylight
In most of coastal California, towns have strict regulations about what you can do, from additions to floor plan changes and exterior colors, as well as building materials used.
5 coastal remodeling ideas throughout
The Coastal Kitchen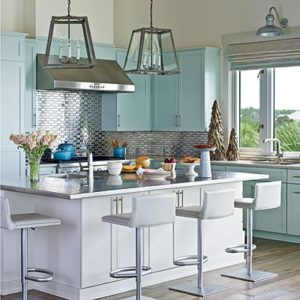 You will want expansive windows, tall cabinets, open shelves, splendid shimmering metallic or Mother Of Pearl natural backsplash, a long island with high chairs and light colored countertops with the least possible pattern. The consensus in coastal remodeling ideas is white cabinets and walls, but a soft blue works well. The flooring, ideally, should be light hardwood (yes, in the kitchen too).
The Dining Room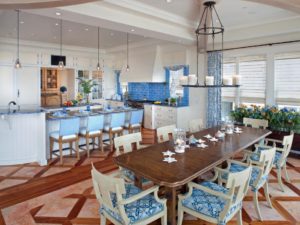 Coastal living is about gathering friends and family. The dining room should include a long table, upholstered high chairs, flowing nicely and open to the kitchen. You can go the exposed beams route or white ceiling. As coastal remodeling ideas go, sense of spaciousness is the keyword.
The Living Room on the Coast (or look alike)
French doors or sliding doors open to the outside as an extension of the indoors in a seamless flow. If you have a view, keep it as it without window treatments or choose sheer fabrics to keep the light pouring in.
The Bedroom
If you live on the Coast, chances are you get plenty of activity and fresh air. If you don't but wish to adopt the style, you will want to feel like you had spent the day walking along the ocean when you retreat to your bedroom. Our coastal remodeling ideas here are kept to the minimum mandatory:
A California King bed for the master suite (for those extra inches) with lots of white, a splash of color or two and oversized chairs.
The Bathroom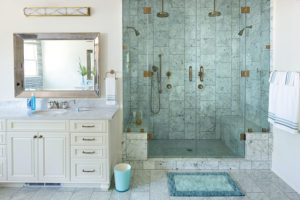 The master bathroom requires a double sink, luxurious marble tiles, an extra large shower with frameless glass doors and - why not? an oversized tub.
Bonus - Decor tips to add to our coastal remodeling ideas
The beach themed decor offers a wide variety and your taste will ultimately guide your choice. Our preference goes to:
Light furniture, that can be oversized but not heavy in design or fabric
Fabrics like cotton, linen, silk, damask or organza
Rattan or canvas blades ceiling fans (we like them white)
Oyster shell chandelier for a whimsical element
Mirrors placed to reflect the natural light
Beach art throughout the room as accent pieces made of driftwood, coral and all organic materials
Do not forget the rugs! Sisal, seagrass, nubby tweed woven, anything natural will be right at home
Replace heavy curtains with bamboo shades or sheer draperies
These coastal remodeling ideas will help you recapture the feeling of your last beach escapade or seaside vacation, or fit the style with your location if you live there. A coastal home has a classic traditional design with subdued colors and subtle beach theme decorating pieces but is not contradictory with modern, it will be up to you. You can tie your coastal design together is the addition of nautical elements reminiscent of ship and yacht but the addition of reds may not be the right fit for your subdued color palette.
You deserve the Collom Construction quality