The top trends of 2016 have given you ideas and you're anxious to prepare for your kitchen remodeling… Before you go about finding a contractor and ask for a quote, you should take enough time to get ready for that first meeting. A lot of work and money go into such a big project. The better you are prepared, the more successful the renovation will be.
Evaluate the features of your current kitchen
Nobody knows your kitchen better than you. Start by paying attention to your feelings when you are working in the room. Do you move around freely? Is there enough light? Is the workspace functional? Make an inventory of what you think is missing: cabinets, drawers, a pantry, counter space…
If you feel you walk a lot while preparing a meal, improving strategic positions should top your list. Think of the distance between the fridge and the counter, between the stove and the sink.
Is your main work area facing out so you can interact with people, and is that important to you?
To efficiently prepare for your kitchen remodeling, you need to pay attention to details that escaped your attention until then. For each task, make a note of what works and what doesn't, and visualize a way to improve it. Don't forget the features you like and want to keep in the kitchen renovation plans.
Mentally build your ideal kitchen (or roughly draw it): should the sink and dishwasher move? (This means moving the plumbing). Are you switching from electric to gas or vice versa?
Prepare for kitchen remodeling with a wish list
This step is one of the funnest. Everything is allowed, so make an extensive wish list. You can get inspiration from friends and websites or magazines, and ask the rest of the family to contribute.
Throw in all you can think of; you're preparing for kitchen remodeling, no decision needs to be made just yet: double oven, mosaic tiles for the back splash, new floor, granite or quartz countertop, built-in nook or free standing furniture, bar stools, pendant lights or wall sconces (or both).
Make an inventory of utensils, cookware and dinnerware. Maybe you'll want to display the fine china in a cabinet with glass doors. Does all your equipment need to be close to the main working station, or can some be stored farther (how often do you use the pressure cooker, the blender, the juicer or the ice cream machine…?) The list goes on and on and you will keep adding to it.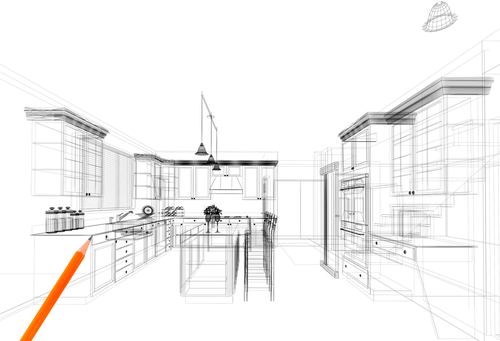 Think about a color scheme
You probably already have an idea of the colors you'd want for the walls and trim and for the cabinetry. The kitchen remodeling preparation process should include testing color palettes so you don't decide on a scheme that doesn't work as well as you thought.
Most paint and hardware stores sell pint-size or pods of paint so you can go get a few, along with big sheets of paper (or canvas, or a 1sq ft sheet of drywall). Paint and put on the walls for a few days. Examine how the light plays with the color throughout the day. In fact, you can keep the swatches until it's time to choose the cabinets finish. And take them with you when you go shopping for tiles and countertop.
Settle on a budget
No kitchen remodeling is successful or pleasant if you don't have a budget right from the start. You don't need to know the cost of everything (though doing a bit of research can help with selection).
It is recommended to have a little flexibility in your wishes (or determine what will not be negotiable, like a double oven for big family dinners, or a sub zero fridge). Some desires may need to be reviewed down to make room for what you absolutely need. Always keep functionality in mind when you have to compromise. Your kitchen remodeling contractor will know what may not be feasible with that budget; he will let you know and offer alternatives.
Preparing for kitchen remodeling is like going on an adventure before the project starts. It is about dreaming, imagining and planning. You have the luxury to change your mind often until the finalization stage. And to share your vision with your contractor, collect pictures and site addresses.
As a full-service construction and remodeling company in San Diego, Collom Construction possess the resources necessary for a successful project. We deliver products of quality craftsmanship and work with you to meet your needs and respect your budget.
Give us a call today to set up an appointment for a free quote.