Treat yourself like Roman royalty with an opulent Italian marble shower remodel that even Julius Caesar would envy. The sleek lines and elegance of a marble shower can turn a boring bathroom into a private luxury spa.
Italian Marble Basics
Italian marble is a naturally occurring, metamorphic rock from Italy that has been used in building for centuries. Marble is known for its beauty and glossy appearance, which includes a vein-like pattern. According to Graniteland Magazine, the veins are caused by layers of minerals such as iron oxide or clay. Every piece of marble has unique veining and coloring, making it easy to personalize your Italian marble shower remodel.
The most popular types of Italian marble occur in three variations of white. Carrara marble is well known for its gray-white tone and delicate wispy gray veining. Calacatta marble is rarer and tends to be white with bold, gray veins. Statuario is considered the highest quality, showcasing a pure white background and distinctive black veins.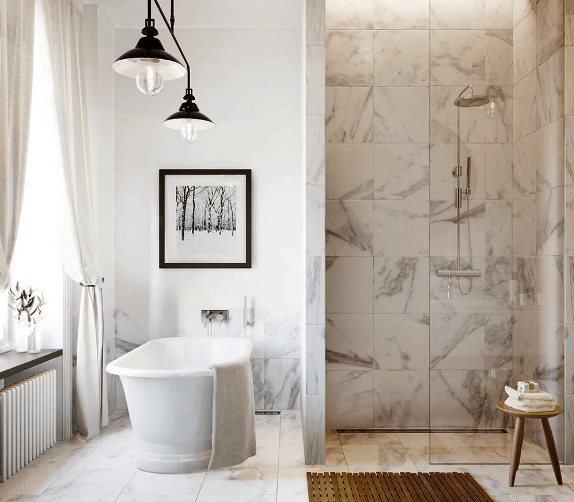 Marble is available in two main finishes: polished and honed. Polishing gives marble a classic shiny, reflective finish. This process seals and protects the surface. Honed marble is sanded and buffed to a smooth, satin finish that is less slippery but more porous.
All marble will absorb some water and other liquids, so it is important to protect against this. A silicone sealant shields marble from water and bath products, which would otherwise soak into and stain the surface of the shower. Resealing is required twice a year as the sealant evaporates.
From large slabs to small tiles, Italian marble comes in all shapes and sizes. Tiles, such as herringbone, subway and hexagonal, work well on floors and can also cover the walls. Marble slabs are best on walls. Details like shower seats and soap holders can also be fashioned from marble.
Italian Marble Shower Remodel
The style of your Italian marble shower remodel will depend on personal preference and available space. Walk-in showers are functional, removing the bathtub to a separate space. A shower alcove, surrounded by walls on three sides, allows for privacy. A glass-enclosed shower, with two or three glass walls, permits more light and an airy feel.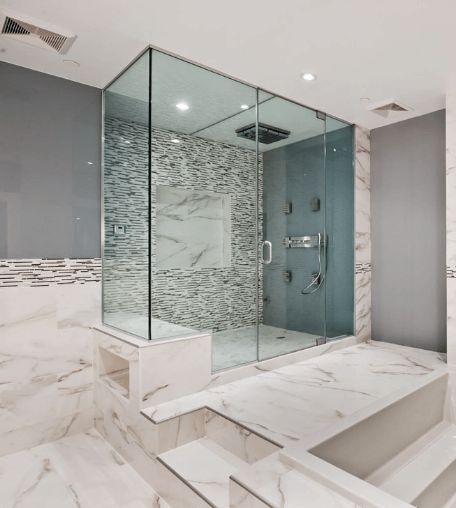 Next, choose the wall height and type. Floor-to-ceiling and head-high are popular choices. Curved walls of glass or tile add interest, but also cost. Doors can be hinged or sliding, as well as a simple opening with no door at all.
An Italian marble shower remodel is by no means a simple project. There should be no impulse there, as marble is a more expensive material and requires care and maintenance. When in doubt, consult with professionals, and maybe explore alternatives. Whether you desire a sophisticated retreat or a comfortable sanctuary, remodeling a bathroom takes planning and weighing pros and cons.
As a full-service construction and remodeling company in San Diego, Collom Construction IncInc. possesses the resources necessary for a successful project. We deliver products of quality craftsmanship and work with you to meet your needs and respect your budget.
Give them a call today to set up an appointment for a free quote